Boxer Page

These are a collection of pic's of my boxer dog Firestorm Master AKA "Henry", after we bought our first house we decided to get a dog. Initially we wanted a Bulldog but because of there breathing problems and my love of exercise it didn't seem a sensible choice.
The next in line was a boxer and after visiting some of my parents friends who already owned one "Cassie" we were hooked. I think it was when we visited Cassie and her owners said "Oh She thinks she's a lap dog" Ha - we laughed but 2 minutes later that was it half her body was draped all over my wifes lap gradually cutting off the circulation to her legs!
What a fantastic decision it was to get one, I can't express how much joy he's brought in to our lives and my parents ..... sometimes I feel my Dad thinks more of him than us! they used to be quite a sight, my Dad (at the time owned an Izetta bubble car and used to drive through the local High Street with Henry stood on the seat next to him with his head stuck out of the roll-back roof! I think they both loved the fame (localised).
My Dad has just finished restoring his third Bond Bug and Henry is just itching to get out in it, I can't wait to see the two of them in that one!

Henry's five years young this August and as per normal on his birthday we cook him a couple of chicken breasts and mix them with loads of gravy - boy he loves that.
---
Click on the thumbnail to see the image full size.












---
Our new Boxer
Sadly we lost Henry to cardiomyopathy in April 2003, as My wife was about due to drop we decided not to get another dog.
As the following years past we were far too busy bringing up our two children to even consider getting another dog. In late summer 2006 we started thinking about the implication of owning another boxer, then I made a phone call to Pat Heath Seefeld Boxers and asked (on the off chance) if she knew of any litters with a black faced male red in - fate dealt us a hand and She had just had a litter from two of her own dogs which only had one male, which was Red with a black mask! We were straight in the car to have a look and that night we were proud owners of a beautiful boxer puppy (well sort of- as we couldn't bring him home for a few more weeks). We decided on the name Oscar but his KC name is Seefeld Sea Trident (very grand!)
Oscar is still under a year old but is already a key part of our family which the children love greatly. He is into everything and seems to love eating socks for some strange reason! Whereas Henry was always a fussy eater Oscar will eat anything from Chilli to Oranges!
I intend to periodically update this page with some more photo's but for now take a look at the images below.
---
Click on the thumbnail to see the image full size.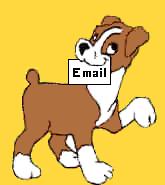 Click here to visit BoxerBabes